We were recently asked to bespoke build a Bird Watching shed for a customer and organise delivery to a reasonably remote location on the Scottish Borders
From start to finish the customer was exceptionally polite and communicated exceptionally well but also quite specific about the detail.
Working from a very detailed brief we contacted our manufacturing partners and calculated the best prices we could after a series of emails back and forth with the customer confirming the details around the delivery agreeing the prices etc the building was ordered. https://www.taylorsgardenbuildings.co.uk/bespoke-bird-watching-shed-2m-x-2m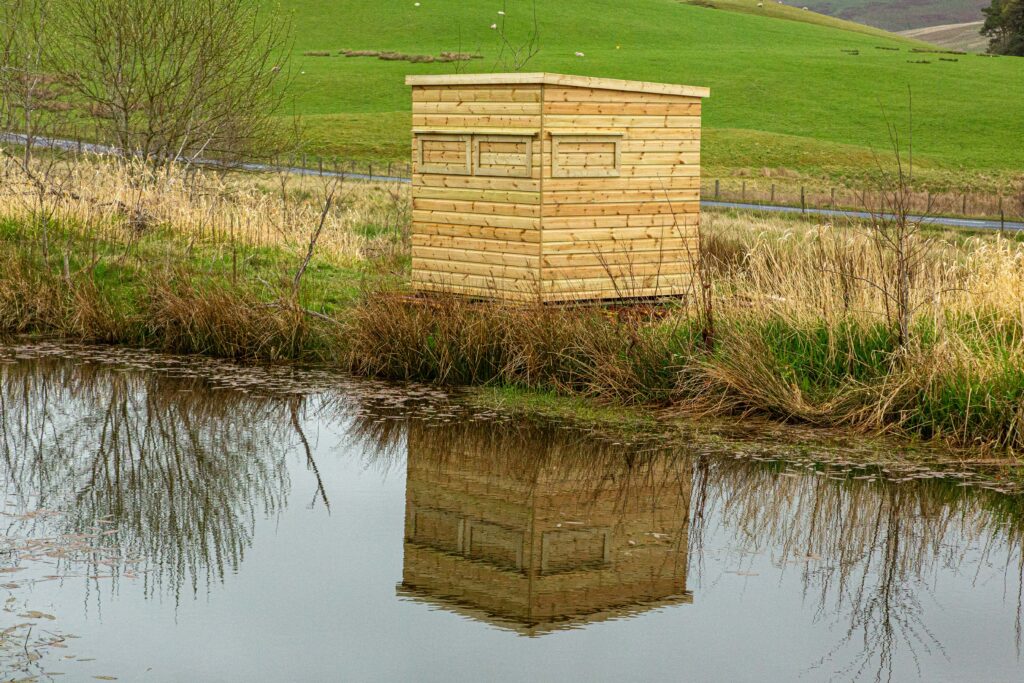 After eight weeks in production we accepted the delivery into the garden centre where we checked the components before sending onto to Scotland, we used a reliable local haulier who we have been working with for many years who use Moffat forklifts attached to the back of the lorry. they got as close to the delivery site as they could with the lorry and used the forklift to take the few hundred yards to the customers storage area until they were ready to assemble.
A few weeks later the customer managed to organise labour and get the building to the final place where they assembled the building.
It looks stunning! a 2m x 2m Bird Hide or Bird Watching shed which will give them hours of protection from the elements whilst still enabling them to watch the birds and other wildlife.
Three windows with internal lockable shutters, a shelf to rest the cameras/binoculars etc on, a bench seat so they can rest a lockable door for security when they are not on site.
The building was made using heavy duty framework, heavy duty cladding, heavy duty floor all pressure treated so guaranteed against rot and wood eating insects for ten years. The roof was covered with heavy duty felt
This is a building that was designed by the customer and made to last.
It was an absolute pleasure to be involved in this project and we are pleased with the results
The customer has provided the below feedback
Good Day Adam,
At long last the hide has been built. Last week a team got together to transport and erect the hide. I have since made a couple of visits and everybody I've been in touch with have been pleased with it.
As you asked I have taken some photographs and these will come to you by WeTransfer.com. They are print quality should you wish to use them in this way or cut them down for posting on your website. You will probably notice a difference between the first 2 and the remainder. These were taken quickly after erection and are only the front. The lock hadn't been put on until later, nor was the interior finished. After these items were done the hide was secured by inserting the stobs at the corners.
Adam I know this has been a long drawn out process but in the end it has been worth it. Perhaps it will bring you additional business and hides will be built in other locations offering similar pleasure to others.
Thanks, and Best Regards
Brian
If you are interested in a bespoke Bird Watching Shed, Bird Hide or any other Shed, Workshop or garden Building then please contact us to discuss your own requirements such as the layout of the building, as many permeations are possible. You may have additional requirements such as alternative cladding, security hinges, double doors, stable doors, heavy duty locks or security windows. Several other options are also available; strengthened floors, partitions, and even roll on – roll off roofs.
We specialise mainly in bespoke buildings. If you would like to have a building built to your dimensions or specifications whether it be a small kennel or a 6 bedroom log cabin then please contact us to discuss your requirements.
For more examples of our bespoke buildings please visit https://www.taylorsgardenbuildings.co.uk/bespoke-made-to-measure-sheds/